Description
Air Climber is a fun and easy way to lose weight and shape the body while you burn calories! And if he was already the easiest way to burn calories and fun to prepare because it is even more powerful!
Air Climber Power System is a complete system for you to lose weight, gain an attractive body and overflowing health, a very fun and easy way! Has shapely legs, butt Durinho, perfect curves, belly and abdomen lisinha set you always dreamed!
Air Climber Power System was developed by leading fitness experts in the country and turns your Air Climber machine into a powerful results!
- Abuse of shorts and skirts shorter fearlessly class Bun & Thigh Sexy!
- Sharpen your waist and abdomen dry with Extreme Abs class!
- Set arms, back and chest with the movements of the class Powerful Body!
- Gain strength and endurance with the most amazing martial arts moves with the class Combat!
- Have more balance, flexibility and power with class Life & Health!
- To condition the entire body in an hour of pure fun and movement class with Happy Hour Training!
The secret of Air Climber is in its exclusive technology Air Flow: Air flows between the two vaults, driving legs, accelerate fat burning and toning muscles in constant motion, rhythmic and very easy to do, with no impact for joints!
You still get the amazing Bodycords working the upper body with an incredible variety of exercises! Get strong arms, back and chest set of envy! 6 lessons on DVD are specially created for you to lose weight and achieve the body you always wanted!
Air Climber comes completely assembled, simply press the dial to inflate and start to see results. Its unique training computer monitors exercise time, number of steps and time shows how many calories you lost!
Air Climber Power System is a uniquely Polishop!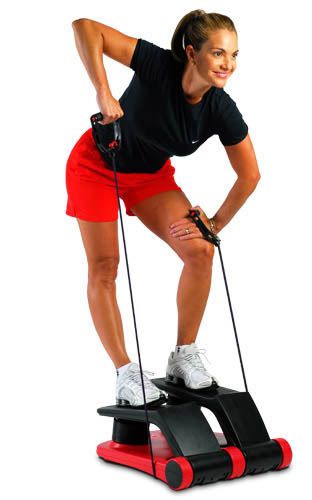 The Fine Print
Delivery available within city limits of Dubai, Sharjah and Abu Dhabi for an additional fee of AED 20.
Delivery will be done within 3 working days from sending the email. Often we deliver within 3 days.
item cannot be combined with other promotional items.
Subject to availability